Are you running any open testing for this game? just found it
was looking for old school games similar to dransik and ashen empires, really awesome looking!
Interested in playing in any state
---
Yeah I took down the server to do a full copy for server upgrade testing. I'll bring it back up now so you can play and test.

I've been over zealous on the .99 release, but will patch soon enough.
---
Posts: 131
Joined: Sat Feb 13, 2016 7:18 pm
Oh wow you are still alive!
---
Of course. Recording sounds effects like crazy yesterday
---
Hello guys, I'm still alive too
Still waiting for the 0.9.9 :3
---
Thanks for sticking around! Sorry I am taking my sweet time. I work a fulltime job and have less time than normal.
Little update. I edited all spots in code to allow for animated weapons, armors, and items. Anyone feel like drawing?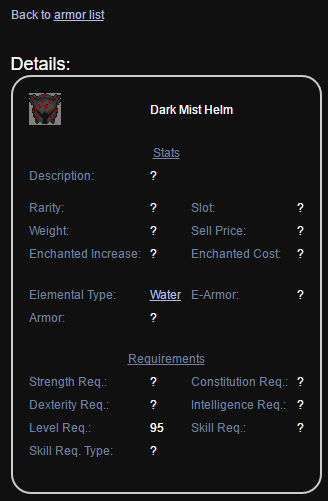 Whatcha think?
---
Posts: 131
Joined: Sat Feb 13, 2016 7:18 pm
Its looking very nice. Great job
---